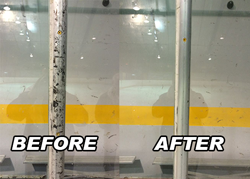 Naf's Rink Clean Puck Mark Cleaner
Naf's Ice Paints would like to introduce our new non-toxic, environmentally friendly puck mark cleaner. Simply spray on, wait for it to work, and wipe the marks away.
Click here for more information.
Welcome to Naf's Ice paints, a premier, highly specialized ice paint company that has revolutionized the meaning of "white" and "bright." As professional ice rink owners and operators, we have long known about ice paint quality from industry experience spanning nearly 5 decades.
In our passionate, decades-long quest for the very best, brightest, highest quality paints for our rinks, we developed our own renowned OMG! product line, recognized as the whitest on the market. Naf's professional quality ice paints provide superior coverage, are created with safer formulas, are cost effective, and proudly 100% manufactured in the USA.